Bakery Specialties Business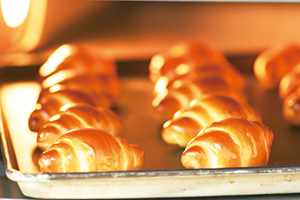 As a comprehensive supplier for customers in the confectionary and bakery industries, we provide baker's yeast, fermented flavor enhancers, quality-improving agents for bakery, bakery premixes, and other products that leverage our unique strengths.
We engage in business activities to meet the needs and address the challenges of our customers through developing a wide selection of products and through our ability to make unique offerings from the customer's perspective.
Yeast
Our lineup of products accommodate various yeasts that have been grown in pure culture for use in dough applications. The products improve the extensibility and elasticity of dough, increase mechanical resistance, and also enhance aroma and food texture.
Premixes
We have a selection of distinctive products for saving labor, stabilizing the production process, and differentiating products through shortening of the production process and time, simplification of raw materials management, and more.
Fermented flavor enhancers and ferments
Fermented flavor enhancers and ferments, which are fermented liquids of lactic acid bacteria and yeast, help enhance flavor, improve food texture, increase shelf life, and improve dough properties.
Quality-improving agents for bakery
We offer unique new ingredients that make use of enzyme technology. We meet customers' wide-ranging requests, including improving dough properties, improving bread quality, and increasing shelf life.
Fermented flavor enhancers and ferments
Quality-improving agents for bakery
PROVIAN™
SOFTTO™
CAVINGUARD™
B-fade™