Food Materials and Food Additives Business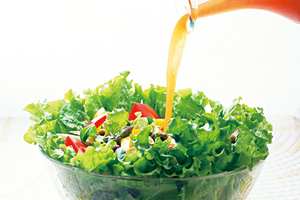 In addition to being delicious, processed foods must meet many requirements including shape and texture, convenience, shelf life, and suitability for processing.
We have a wide range of products tailored to the diversifying uses of our customers, including thickening stabilizers and quality-improving agents for improved texture and water retention, emulsifiers that are essential for bakery and tofu manufacturing, and functional ingredients for health conscious customers.
We provide functionality that customers need based on changes in food preferences and problems faced during production.
Thickening stabilizers
These food additives improve food texture and improve water retention. They can be used mainly for processed foods, such as noodles, processed meat products, and seafood paste products.
Emulsifiers
Aimed at food emulsification, these food additives can be used for products such as bread, tofu, margarine, creams, mayonnaise, and ice cream to give them uniform quality.
Quality-improving agents
Quality-improving agents are effective for improving the color tone, dispersion, elasticity, water retention, and formation of various food products, such as meat products, processed seafood, dairy products, and beverages. In particular, the Company's enzymes can selectively break down sinew and lean of meat and increase yield for meat products.
Amino acids and organic acids
We have a wide selection of amino acids, which play a critical role in maintaining human vital functions, as well as organic acids, which have various acidities and are used for seasonings, processed foods, and beverages.
Freeze-dried foods
We provide a range of freeze-dried foods for households, such as soups and rice porridge. Our technology that enables authentic flavors and aromas is highly acclaimed. We also provide and develop original equipment manufacturer (OEM) products.
Thickening stabilizers
Curdlan
NEWGELIN™
Carrageenan
Oruno™
Xanthan Gum
Quality-improving agents
Polyrinsan
Orfiber™
Curing™205
NEW Soft Meat™
Food Up™
Sun Mild™
Nobiemon™
Quality-improving agents (enzymes)