Production Technology
Towards more advanced technology and higher quality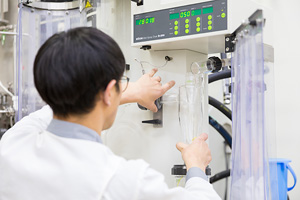 We continue to conduct research day-to-day in order to turn new ideas from R&D into actual products and provide them to customers in a safe, secure, and stable manner, as well as to further improve existing products.
We pay careful attention to all steps of the production process, including review of a product's manufacturing conditions, design and development of process equipment in collaboration with the production and engineering divisions, and studies for the optimization of people, goods, machinery, and information. We harness comprehensive manufacturing technology to ensure a stable supply of the industry's world-leading products for customers.
Production technological capability tailored to various products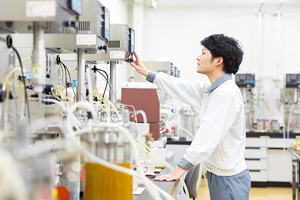 Using fermentation technology, we have produced new products from microorganisms in a variety of genres, such as nucleic acids, yeast extracts, functional ingredients, polysaccharide texturants, enzymes, bakery ingredients, and cooking liquors. We have also produced polyols using advanced hydrogenation reaction (reduction) technology and nursing foods (e.g., foods for easy swallowing) using polysaccharide texturants.
Such products have been produced also using our long-cultivated advanced microbial control technology and high-pressure reaction technology, together with our purification technology for efficiently turning target substances into products (e.g., solid-liquid separation, distillation, concentration, crystallization). In addition, we have sought to reduce costs and contribute to stable production at plants by developing and enhancing our underlying technologies, including powder manufacturing using our unique drying technology, extract manufacturing technology such as extraction and emulsification, granulation technology, and sterilization technology for greater safety.
We not only seek to improve our existing equipment and processes, but also actively engage in the development of new technologies and equipment to strengthen our production technological capability.